General Data Protection Regulation Services
General Data Protection Regulation (GDPR) (1) by the European Parliament and the Council, was adopted on April 2016 and focuses on the protection of natural persons, with regard to the processing of personal data and on the free movement of such data.
It came to replace the Data Protection Directive 95/46/EC and was designed to harmonize data privacy laws across Europe, to protect and empower all EU citizens data privacy and to reshape the way organizations across the region approach data privacy.

Key definitions  for the purpose of Regulation: 
Any handling of Personal Data throughout its entire life cycle, from collection to deletion, is considered "processing". Even remote access is considered "processing."
"Personal data" is defined in GDPR as any information relating to a person who can be identified, directly or indirectly, in particular by reference to an identifier such as a name, an identification number, location data, online identifier or to one or more factors specific to the physical, physiological, genetic, mental, economic, cultural or social identity of that person.
Main Requirements of the Regulation
Privacy by Design and by Default
Data Controller/Processor
Consent
Data Protection Impact Assessment (DPIA)
DPO
Privacy Accountability
Pseudonymization
Data breach Notification Obligation
The GDPR introduces the following rights for data subjects:
The right to be informed
The right of access
The right to rectification
The right to erasure
The right to restrict processing
The right to data portability
The right to object
Rights in relation to automated decision making and profiling.
GDPR went into effect on 25 May 2018 and has international reach. So any organization that processes data of EU data subjects encounters new, uniform data protection requirements or strict fines for non-compliance, 4% of annual turnover or €20 million per incident, whichever is higher.
HOW PERFORMANCE TECHNOLOGIES CAN HELP YOU IN YOUR GDPR COMPLIANCE JOURNEY
GDPR isn't a new approach on data protection. To that end, organizations should review their existing data protection framework, business processes and security systems to understand the gaps with GDPR mandates, in order to effectively achieve compliance and to avoid fines.
We are here to assist you in fast, effective and full compliance with GDPR regulation, throughout the entire data lifecycle, from sensitive data discovery to implementation and monitoring of your data protection and compliance strategy.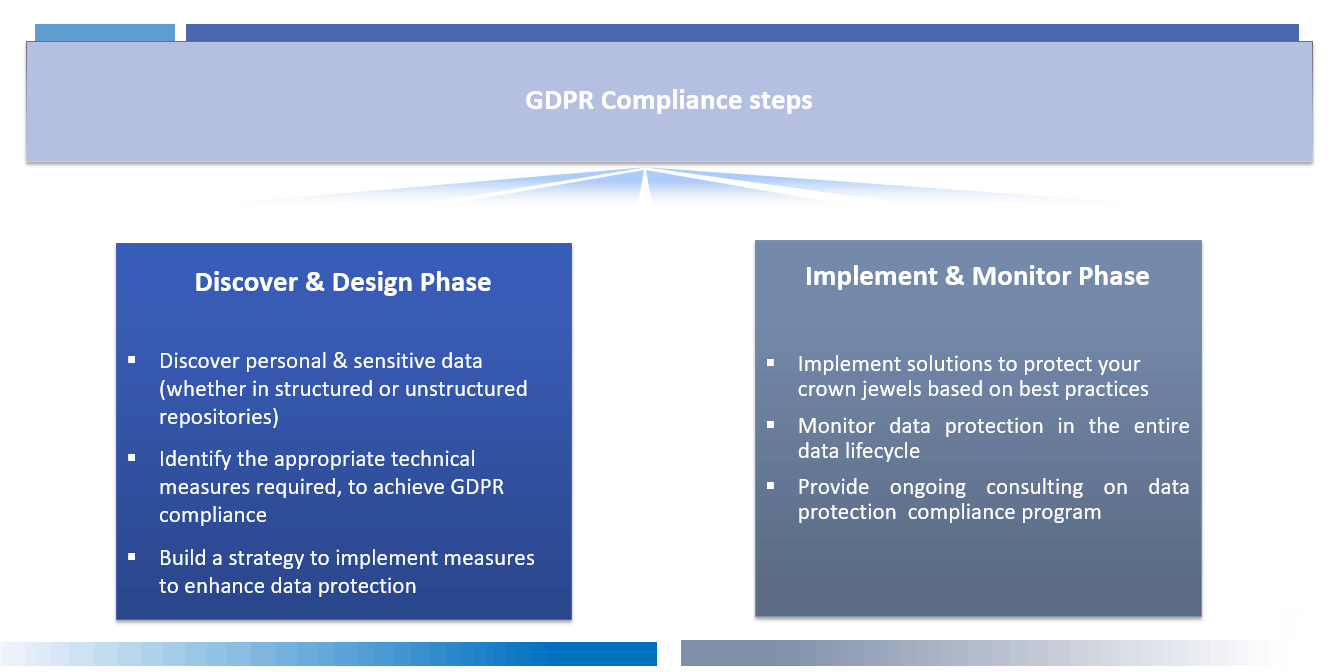 We have proven experience and strong partnership with leading industry solutions, that aim in data protection and provide GDPR compliance, including but not limited to areas such as:
Data Discovery
People management – Identity Management & Privilege Identity Management
Database & File Server protection
Data Masking
Data encryption
Backup
Email Archiving
Mobile Device Management
(1) EU GDPR regulation 2016/679 published document: http://eur-lex.europa.eu/legal-content/EN/TXT/?uri=uriserv:OJ.L_.2016.119.01.0001.01.ENG&toc=OJ:L:2016:119:TOC
(2)          Article 29 Working Party is made up of a representative from the data protection authority of each EU Member State, the European Data Protection Supervisor and the European Commission. The composition and purpose of Art. 29 WP was set out in Article 29 of the Data Protection Directive, and it was launched in 1996 (Wikipedia)
** See more Security & Information Governance Solutions here