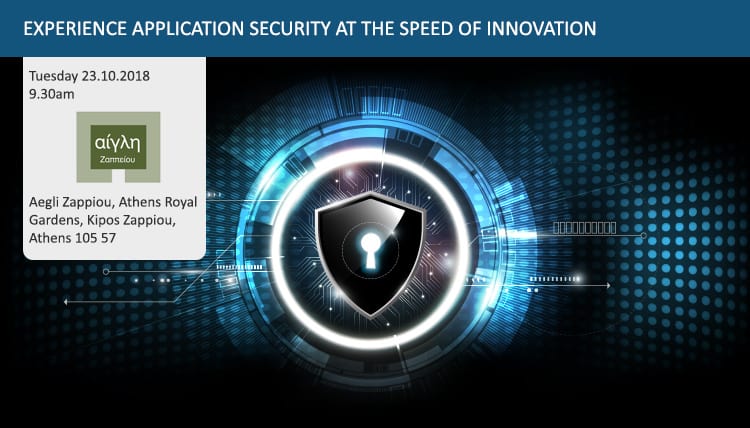 Join Performance Technologies and Micro Focus for our first Application Security Customer Event in Athens on Tuesday, 23rd of October at Aegli Zappiou.
PROTECT YOUR BUSINESS, PROTECT YOUR APPLICATIONS
Applications that your business depends on, are threatened to be attacked. And those threats are growing exponentially.
Learn how Micro Focus Fortify can help you build and protect today's greatest security risk, your applications.
Fortify SCA scans your source code to identify weaknesses, prioritize vulnerabilities, remediate issues, and provide best practices to get you started on the right path. Fortify offers end-to-end application security solutions with the flexibility of testing on-premises and on-demand to cover the entire software development lifecycle.
Complete software security assurance with Fortify on Demand—our application security as a service—integrates static, dynamic and mobile AppSec testing with continuous monitoring for web apps in production.
Agenda
09.30 – 10.00 Registration – Welcome Coffee
10.00 – 10.10 Welcome Address, Better Together, Performance & Micro Focus partnership
George Cheimonidis, Business Development & Innovation Manager, Performance Technologies 
10.10 – 10.30 Fortify Hacking Demo
Lucas v. Stockhausen, Sr. Product Manager, Application Security Strategist, Fortify 
10.30 – 10.50 AppSec at high speed and scale: agility, integration and automation
Scott Johnson, General Manager, Fortify 
10.50 – 11.15 Coffee break
11.15 – 11.45 Fortify Overview
Lucas v. Stockhausen, Sr. Product Manager, Application Security Strategist, Fortify 
11.45 – 12.30 Static and Dynamic Demo
Suleyman Petek, Senior Presales Consultant Fortify (Turkey, Greece & MEA)
12.30 – 13.15 Lunch & Networking 
13.15 – 13.45 Continuous delivery of business value with Fortify
Katerina Zervonikolaki, Software Sales Engineer, Performance Technologies
13.45 – 14.15 Fortify Roadmap and directions
Scott Johnson,General Manager, Fortify
14.15 – 14.30 Q&A and wrap up
Registration is now closed! 
---
Event contact: Dimitra Kontou | phone: +30 210 9947007, +30 6977 650566