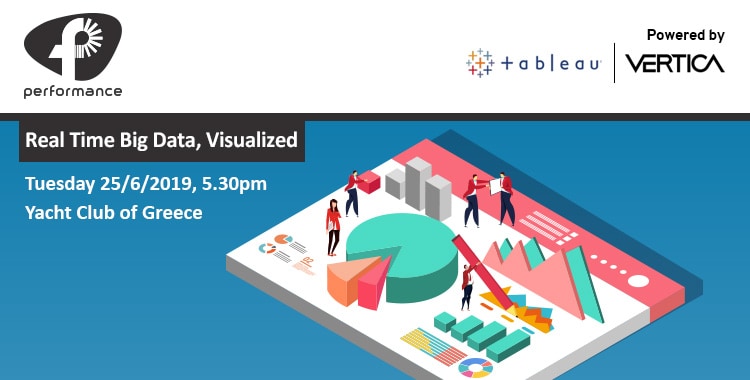 In this event, Performance Technologies together with Vertica and Tableau will present their latest achievements and innovations in the area of Big Data Analytics and Data Science.
The event will focus on practical presentations, success stories and applied innovation in the areas of Big Data Platforms, Analytics, Machine Learning and Visualisation.
We will present cutting-edge use cases for organisations looking to exploit the potential of big data for gaining competitive advantage.
The event will take place in Athens on Tuesday, 25th of June at 5.30 pm at the Yacht Club of Greece, 18, Karagiorgi Servias str., Piraeus.
Join us and discover new ways to conquer challenges by sharing experiences with other organizations. Learn how to do more with your data and leave inspired by innovation and new perspectives.
AGENDA
5.30pm: Registration & Welcome Coffee
6.00pm: Welcome Address – Partnership between Performance, Vertica and Tableau, George Cheimonidis, Business Development Manager, PERFORMANCE
6.15 pm: Riding the Analytics Wave, Manolis Tsangaris, Head of Analytics, PERFORMANCE
6.45 pm: Analytics with Vertica is driving the Digital transformation of the business, Amit Manor, VERTICA Channel Director EMEA
7.15 pm: Coffee Break
7.30 pm: Get more from your data with Tableau, Julien Lannelongue, Senior Sales Manager, Tableau
8.00 pm: Customer Success Story
8.30 pm: Dinner
Registration is now closed!
Parking: available and free of charge
Event Contact: Mrs Ageliki Papadimitriou, T. 210 9947006 | M. 6937057015