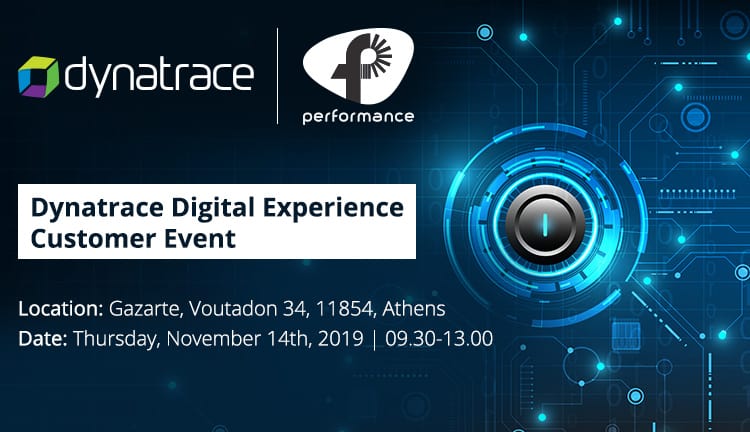 Transform into the digital future at light speed using AI and automation!
Performance Technologies and Dynatrace are excited to invite you to the first Dynatrace Digital Experience customer event in Athens on Thursday, November 14th, 2019 at Gazarte.
Dynatrace has redefined the monitoring of today's digital ecosystem with artificial intelligence, full stack and full automation. It is the only solution that provides answers and not just data, based on a deep insight into all users, every transaction, across any application.
This helps 72 of the Fortune 100 and many more organizations worldwide to optimize customer experience, accelerate innovation, and modernize IT Operations with absolute confidence.
Find out more at this event!
AGENDA
9.30 – 10.00 Registration & Welcome Coffee
10.00 – 10.10 Welcome Address, George Cheimonidis, Innovation & Business Development Manager, Performance Technologies
10.10 – 10.40 Software Intelligence for the New Enterprise, Ricardo Fontes, Regional Director – MENA, Dynatrace
10.40 – 11.10 Monitoring in the Era of Hybrid Cloud and Microservices, Roman Spitzbart, Senior Director Sales Engineering EMEA, Dynatrace
11.10 – 11.40 Demo: Dynatrace – The Software Intelligence Platform, Thomas Brandl, Sales Engineer EMEA, Dynatrace
11.40 – 12.00 Coffee Break
12.00 – 12.30 Deriving Business Insights from End User Management Analytics, Andreas Tsangaris, Chief Technology Officer, Performance Technologies
12.30 – 13.00 Customer Success Story – Dynatrace as a Core Element in the Journey to Digital Transformation, Nikolaos Ioannou, Assistant Manager, Alpha Bank
13.00 Networking Lunch
REGISTRATION IS NOW CLOSED!