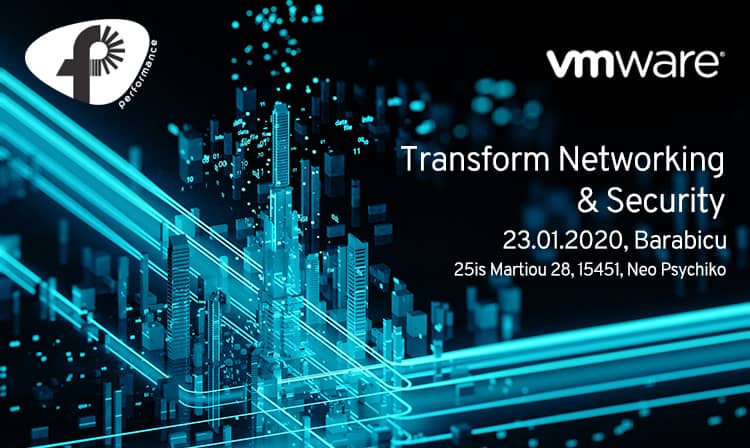 You are invited!
Join VMware and Performance Technologies for a Workshop on Networking & Security where you'll learn how to connect and secure apps and data, regardless of where they run, from data center to cloud to edge infrastructure.
Data is more distributed than ever, dispersing away from core data centers and moving closer to the edge. Endpoints proliferate, and management and control of connectivity across disparate silos and locations becomes increasingly difficult. To respond, organizations need to provide pervasive, consistent connectivity — and a new model for security — across the enterprise.
In partnership with VMware, Performance Technologies would like to invite you to this workshop where you'll learn how to take the next step in enterprise networking and security
AGENDA
10.00 – 10.30 Gathering & Welcome Coffee
10.30 – 10.45 Welcome Address, Pavlos Kitsanelis, Country Manager, VMware
Dimitris Kyriakidis, Technology Services Manager, Performance Technologies
10.45 – 11.15 Intrinsic Security – How your VMware infrastructure can turn the tide in Cybersecurity
Fotis Pantazis, Solutions Architect, Performance Technologies
11.15 – 12.00 Protect your Network with Micro Segmentation
Ermis Doganis, Virtualization Unit Manager, Cloud Architect, Performance Technologies
Antonis Paravalos, Senior Network Engineer, Performance Technologies
12.00 – 12.20 Coffee Break
12.20 – 13.00 Transform your network edge with VMware VeloCloud SD-WAN
George Boufis, Senior Systems Engineer, VMware
13.00 Lunch & Networking
Parking: Available and Free of Charge

Registration is now closed!
You can access information regarding VMware Networking Solutions here